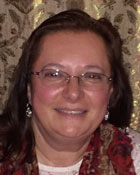 Marie MacAllister, LMHC, LMFT
Counseling/Hypnosis
Marie MacAllister is a Licensed Marriage and Family Therapist and Licensed Mental Health Counselor, who works with individuals and families from a holistic perspective. Marie utilizes "person specific" therapeutic techniques to help transform limiting attitudes, emotions, body movements and behaviors into more creative and health affirming ways of living.
Enhanced awareness of body, mind, and spirit, acts as a catalyst to empower one's own healing abilities. Therapeutic strategies include: Cognitive-Behavioral therapy, Traditional "talk" or client centered therapy, Spiritual healing, Internal Family Systems, Strategic Planning, Solution Focused, and adjunctive hypnotherapy.
Typical Areas of Service include: Marital/Family Conflict resolution, Parent/Child Conflict resolution, Depression/Mood Disorders, Stress Reduction, Eating Disorders and Alcohol/Substance abuse, and Adjustment to life changes, ie: Separation, Divorce, Chronic Illness, Aging, and Life style changes.
To schedule an appointment, please call: 781-249-4844. Confidential voice mail or text available for your convenience.